Shopping Cart
Your Cart is Empty
There was an error with PayPal
Click here to try again
Thank you for your business!
You should be receiving an order confirmation from Paypal shortly.
Exit Shopping Cart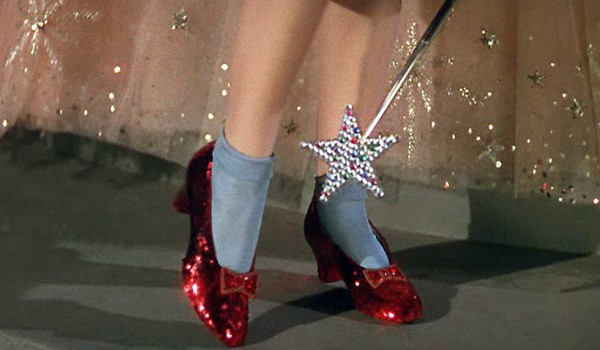 Energy Medicine and the Ruby Slippers
Last night I found myself awake in bed, heart racing, having a panic attack. While I do tend to wake up in the middle of the night, panic attacks are pretty unusual for me.
At 4:30 I got out of bed and quietly did a few energy medicine exercises. In less than 3 minutes I was more present and calm. I went back to bed and did some breathwork and cradled my Triple Warmer (the energy of fight/flight/freeze) and soon fell back to sleep.
The exercises I used, The Blow-Out, Taking Down the Flame, and the Hook-Up are from my training with Donna Eden. Two of these and the breathwork (through the Chakras) are included in my card deck, Tools for the Sensitive Soul – The Empath's Survival Kit (Veronica Torres, co-creator).
Just like Dorothy had her Ruby Slippers, I had the tools to bring myself home all along.
Are you an Empath?
Do you feel other people's emotions as deeply as your own?
Do you take on the pain or illness of those you care about?
Do you have trouble recognizing your own feelings?
Do you find it difficult to set and maintain boundaries?
We recognize your struggle and want you to know you are not alone. Both of us have had our own struggles with sensitivities and learned ways to not only cope with it, but to thrive. Stacy came into her strength and clarity through Energy Medicine. Veronica, with the Eloheim Council, developed Tools for Conscious Living that enabled her and others to release habitual reactivity and live in the moment with energetic integrity. Veronica went on to explore the Energetics of Essential Oils, discovering their personalities and soul-level uses. Stacy was able to explain what energy systems the oils worked on and their most potent placement on the body.
We realized that our skills compliment each other well and we had much to offer together, so we teamed to create Tools for the Sensitive Soul: The Empath's Survival Kit. It is a 30 double-sided card deck and 20 page booklet filled with practical ways to help you learn to thrive as an empath. The cards are divided into five categories: Grounding for a Solid Foundation, Aura Protection for the Empath, Clarity and Intuition, Let it Go, and Come Back to Yourself. Each category contains two Energy Medicine techniques, two Tools for Conscious Living, and two Essential Oil recommendations.
With consistent practice these tools can help you find a healthier way of being in the world. By establishing boundaries and attaining clarity about yourself and the present moment you can muster the energy and willingness to heal yourself and evolve into the amazing person you are meant to be. Your gift of sensitivity will become your strength and your inner light will shine brightly.
About the authors:
Stacy Newman has been called "too sensitive" her entire life. Now she embraces this description and uses her intuitive abilities to help her clients overcome bio-energetic issues and transform their lives. Information about private sessions, workshops, and other resources can be found at www.sweetenergies.net.
A lifelong energetic sensitive, Veronica Torres has spent decades discovering and evolving her intuitive gifts. She is the channel for Eloheim and the Council (www.eloheim.com) as well as the author of The Energetics of Essential Oils deck (www.oilenergetics.com).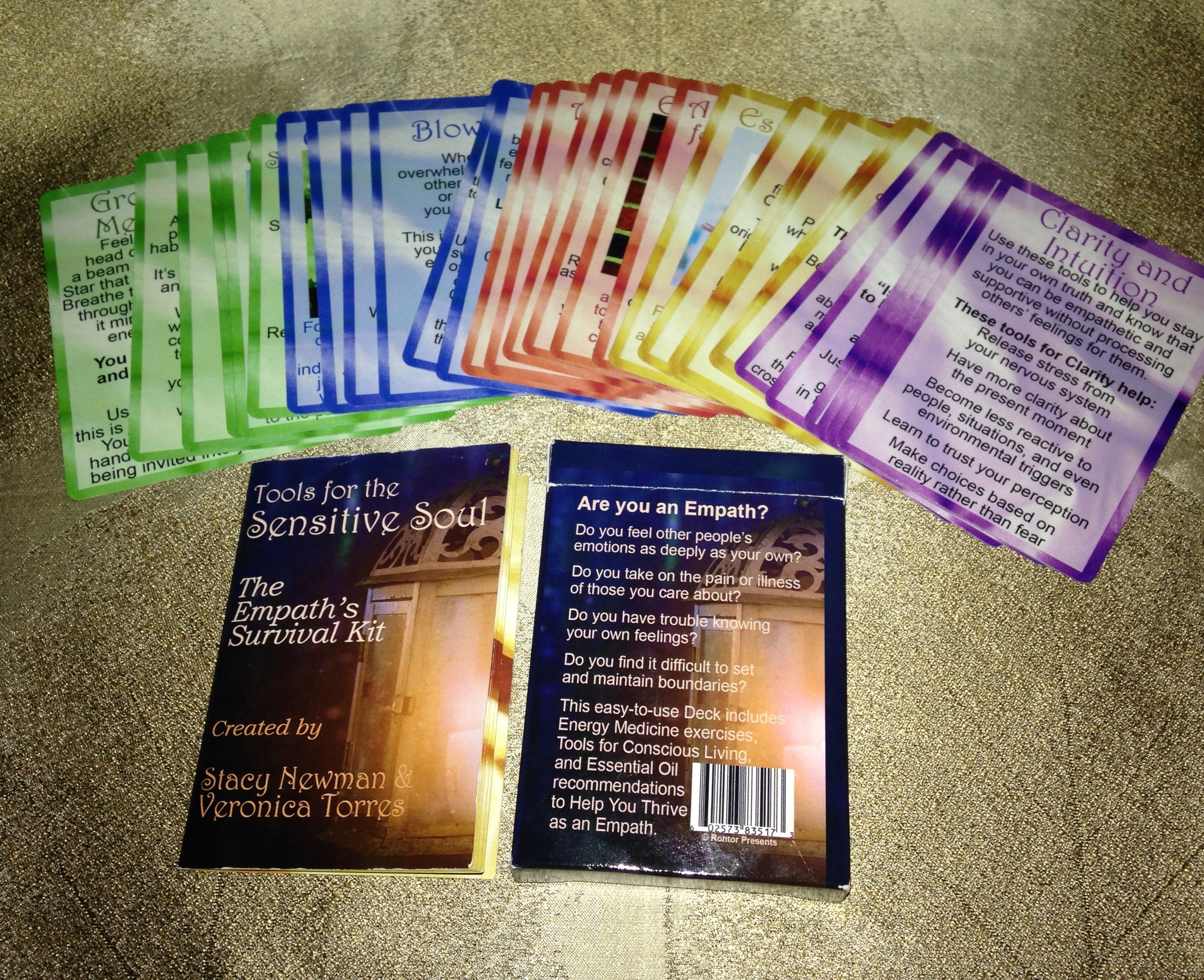 Tools for the Sensitive Soul is available at The Game Crafter for $16.99 plus shipping.
It is my hope that you learn to access the gift of your sensitivity and learn to thrive.
With Love,
Stacy

Can 5 to 10 minutes a day change your life? It certainly changed mine.
In 2005 my life was turned upside down. A flood had destroyed my business and my immune system. I was too ill to work for about six months. With no good answers from Western Medicine, I turned to an amazing osteopath who had a protocol for working with allergies. Dr. Sherri Tenpenny and her staff did an amazing job using acupuncture to reduce my allergic reactions (everything from mold to plastics). However I was still anaphylactic to latex and tropical tree fruit – a big problem because the drywall at my business had been sealed with a latex compound to keep moisture out. I really was allergic to my job!
So in 2006 Dr. Tenpenny referred me to Dr. Doug Moore, a psychologist who practices both Energy Medicine and Energy psychology. We worked together on the emotional component of my remaining allergies using EFT. Doug also did Energy Medicine with me and taught me Donna Eden's Daily Energy Routine. While I continued to see Doug for deeper energy work on the table, I was empowered to work with my own energies and find my way back to health.
While I was still allergic to my shop I decided to become trained as an Energy Medicine practitioner. I had loved my life as a chocolatier (hence Sweet Energies), but my illness had presented me with my true calling. I have become passionate about helping others discover their own capacity for healing. I continued to work on myself with the Daily Energy Routine as well as other techniques I had learned through my training and my health and resilience continued to improve. I am so happy and grateful to share that I am now free of all of my allergies – no more epi-pen for emergencies and no more fear. I was even able to go back to making chocolate in the same building.
So how can I help you? I am looking forward to teaching you how to harness your own healing abilities and reclaim your health with the Daily Energy Routine and other great self-care tools. Please join me for one, two, or all three of my upcoming workshops at Partners to Empowerment Wellness Center. Do you want to go deeper? Private sessions combined with the self-care exercises address your own unique energies and empower you to thrive.
Do you want to see Donna demonstrate the Daily Energy Routine? You can find it here.

Wishing You Health and Radiance,
Stacy
/